Anthony Sitko
Creative Director
Director/Editor for Film &
Video
Co-Founder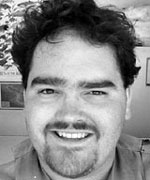 Background:
Some say life begins at graduation, but Anthony's interests in technology, entrepreneurship and creativity have been lifelong. Anthony holds a Bachelor of Arts degree in Honours English and Film. After graduating, Anthony's diverse interests in both technology and film lead him down two unique, yet simultaneous paths. The technical aspect resulted in attaining Microsoft Certified Professional status and the formation of the consulting company, Dolphin Computer Services. Meanwhile, Anthony pursued his creative interests by producing a local television series and directing and producing a number of short films and videos. In 1999, Anthony decided to merge the two sides of his career and interests by co-founding PWF.


Role:
Anthony concentrates on overall design and the "look & feel" of projects, working closely with graphics, interface and media personnel. With experience leading creative teams from inception to delivery, Anthony helps develop and maintain the "vision" as the project progresses. He also serves as director and editor when producing content and assists with the day to day operation of PWF.
Alan Vallely
Software Interface
Engineer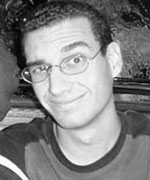 Background:
A graduate of Honors English and Film, Alan seeks out opportunities to work on creative and inspiring projects in film and multimedia. Alan is drawn to the entertainment industry, particularly games, and is therefore easily attracted to constructing interactive software where creative opportunities are abundant.

Role:
Alan currently specializes in building the software interface for CDRom and Web projects using Macromedia Director Shockwave Studio. In addition Alan is a part of the crew on location filming and adds creative input on other areas of the project when possible.
Steve Mahler
Graphic Artist
Animator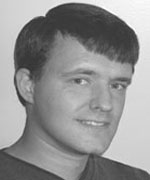 Background:
Steve's formal education resulted in attaining an Honors BA in Visual Arts and Film. Computers are a hobby Steve has enjoyed from a very young age and actively pursues today. Steve possesses a finely tuned eye and ability when it comes to creating all kinds of visual elements and objects: 2D and 3D animations, original artwork created via traditional methods (pencil and paper, paint) or new (digital tablet), photo manipulation, shot composition for video or still, logo creation, costume and prop creation... Steve loves and excels at it all.

Role:
Steve is responsible for graphics and animation at PWF, as well as stepping out from the drawing table for camera work during production.